Eight Voices of Analog, FM, and Wavetable Synthesis
The Korg Prologue may be the modern analog polysynth you've been waiting for. Featuring 49 full-size keys and eight voices, plus Split, Layer, and Crossfade modes, Prologue is primed for creating complex layers of sounds. Each voice boasts two analog oscillators plus a digital oscillator offering FM and wavetable synthesis. And with the ability to create your own oscillators and effects, Prologue is one of the most customizable hardware synths we've ever seen at Sweetwater. With four different voice modes, an arpeggiator, a dual effects section, and 500 program locations for saving your sonic creations, the Korg Prologue is an undeniably powerful synth for stage and studio.
Updated analog filter with drive
Korg created an all-new filter design for the Prologue synthesizer. This smooth-sounding filter features a dedicated drive circuit for adding harmonic richness. While heavy overdrive can rob a signal of its bass impact, this switch allows you to add sizzling distortion while keeping the low end rock solid.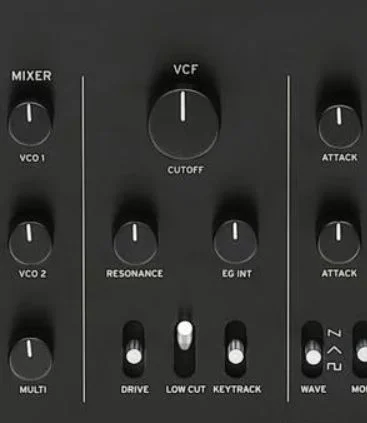 Four voice modes for creative performance options
While the Prologue offers impressive polyphonic appeal, you can also choose monophonic voice operation for playing classic lead and bass lines. Unison mode operates as an all-unison monosynth. And Chord mode produces chords with a single key press. Whether you're looking for musical inspiration or preparing for a live performance, Prologue's flexible voice modes offer big creative potential.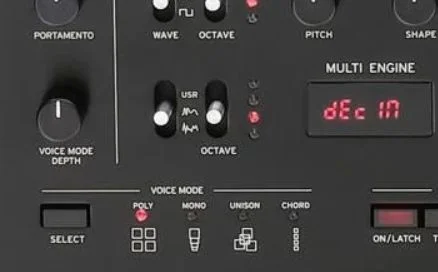 Single- and dual-timbre modes
Like many Korg synths, Prologue offers multiple ways to create custom patches. In addition to single-timbre mode, Prologue features three dual-timbre modes for combining sounds. Split mode allows you to assign two different sounds to two different sections of the keyboard, while Layer mode allows you to play two sounds simultaneously across the entire keyboard. Crossfade mode offers even more performance potential, basically combining the two modes to create a smooth sonic transition between zones on the keyboard.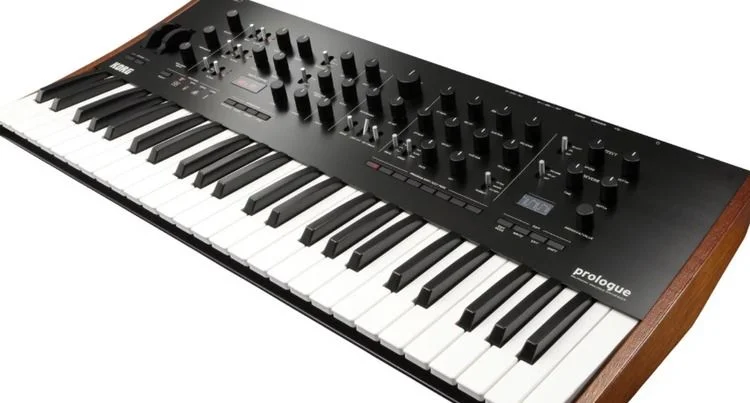 Tech Specs
Type:Polyphonic Analog Synthesizer
Sound Engine Type(s):Analog, FM, Wavetable
Analog/Digital:Analog-Digital Hybrid
Number of Keys:49
Type of Keys:Natural touch synth action, Velocity-sensitive
Other Controllers:Pitchbend, Mod wheel
Polyphony:8 voices
Number of Presets:200+
Oscillators:2 x Analog Oscillators (square, triangle, sawtooth) 1 x Digital FM/wavetable
LFO:Wave (saw, triangle, square), Mode (fast, slow, BPM), Rate, Int, Target (pitch, shape, cutoff)
Filter:Cutoff, Resonance, EG Internal, Drive, Low Cut, Keytrack
Number of Effects:43 types
Effects Types:Chorus, Flange, Phase, Ensemble, Delay, Reverb
Arpeggiator:6 types (manual, rise, fall, rise fall, random, poly random)
Audio Outputs:2 x 1/4" (L/Mono, R)
Headphones:1 x 1/4"
USB:1 x Type B
MIDI I/O:In/Out
Pedal Inputs:2 x 1/4" (expression, damper)
Other I/O:1 x 1/4" (headphone), 2 x 1/8" (sync in/out)
Power Supply:Standard IEC AC cable
Height:4.65"
Width:27.91"
Depth:13.70"
Weight:16.53 lbs.
Manufacturer Part Number:PROLOGUE8
KORG,PROLOGUE-8,polifoni,analogni,sintisajzer,Klavijature,Klavijature,-,Sintisajzeri,
Vaš upit je uspješno poslan.Uskoro će Vam se javiti netko od djelatnika.Lijep pozdrav.